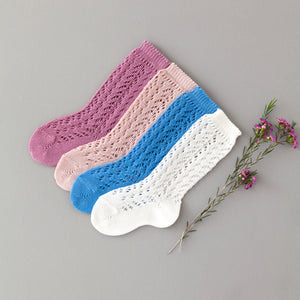 Folklore Crochet Knee Socks Bundle
Condor
Regular price $36.00 $32.00 Sale
A discounted bundle of our Folklore crochet knee socks in gorgeous new colors for Spring. 
Colors included in the set: Ivory, Maya Blue, Vintage Rose and Raspberry
Material: 100% Cotton
Made ethically in Spain.
Care: For best results, wash inside a mesh bag on delicate cycle. Do not tumble dry.
Condor is world famous for their high quality, ethically produced accessories.
A Spanish company, over 100 years old, they pride themselves on designing and manufacturing  their entire range in Barcelona, operating under the strict European Ethical Guidelines.   Condor is dedicated to sustainable production, reducing carbon footprint and ensuring the safety of both their garments and those who make them.